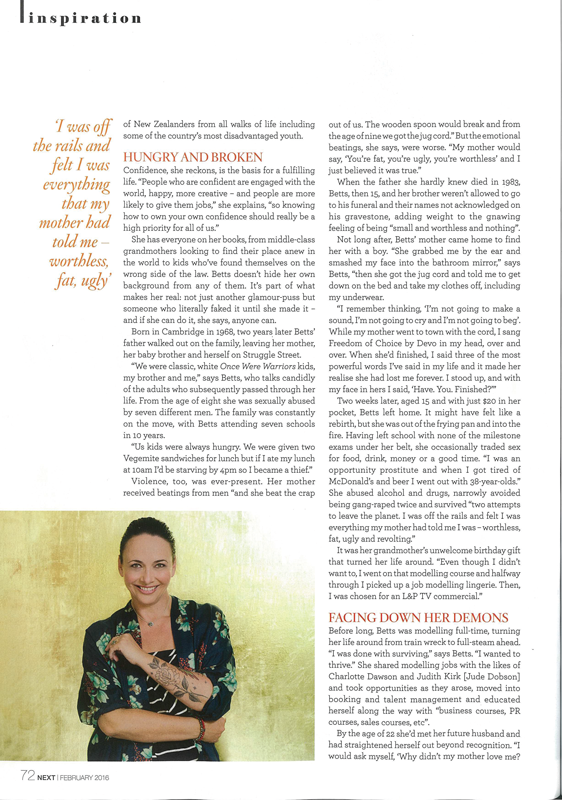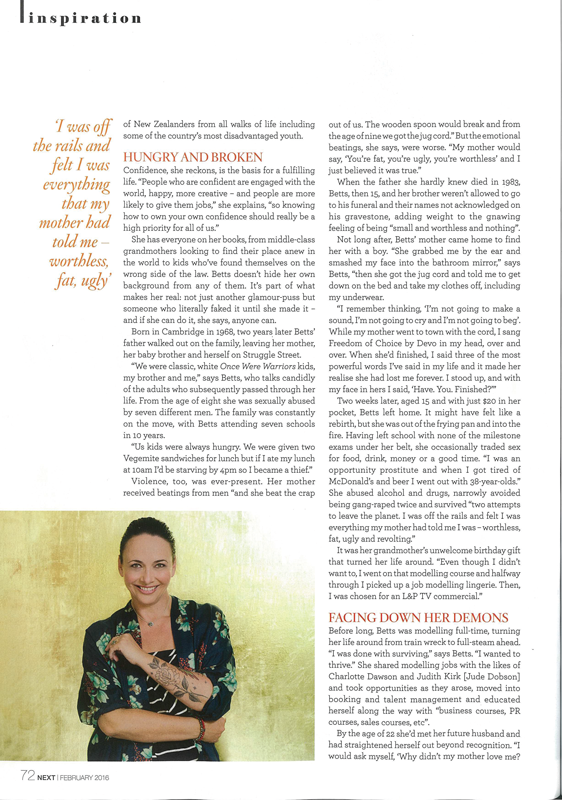 Click image to view article
In the November 2014 issue of Next Magazine, Rebecca Barry-Hill talks VISIBILITY and asks me for some of my tips on visibility for LIFE IN GENERAL.
This story by REBECCA BARRY HILL changed my life path. It touches on some of what really happened in my childhood and how I turned my life around to help others help themselves in NZ HERALD CANVAS MAGAZINE: FROM PAIN COMES TRIUMPH: 'Rebecca Barry Hill meets three women whose suffering taught them survival — and led them to success'
"What's so amazing about my job is I use all of that strength. There are no excuses with me. Because one of the biggest things my past has taught me is how to be an opportunist.
"Opportunity is nothing if you do nothing with it. No one's going to do it for you.
"I wouldn't say I'm grateful for what happened but I'm grateful for the way I am and the choices I was able to make. I'm grateful for psychotherapy - it helped immensely. And I'm grateful for my spirit, my really hard spirit. Because, in theory, I shouldn't be here, in such a nurturing role, taking care of people and being such a part of their journey with them. I should be a failure."
This story is the one that inspired NZ modelling superstar, HOLLY ROSE to approach Red11 Models.
In WHAT I DO: SUNDAY STAR TIMES, knowing what it takes to model, I talk about the challenges as both a model and a model agent, some of what it takes to be successful as well as touch on how I turned surviving a tough childhood to benefit others.
In the NZ HERALD, BUSINESS SECTION: GRIT NEEDED TO MAKE IT ON THE RUNWAYS, I talk about how being tall, skinny and pretty is not enough to make it as a model.
"We had a girl who was tall, beautiful, had style and personality and she was lazy. She didn't want it enough and was always pointing the finger as to why she wasn't getting work. If you get up really early like the rest of us and exercise really hard, you just might do well."
In 2014, my 16year old son IZAAC and I were honoured when we were invited by SABEN to be part of their new jewellery campaign for SABEN in MAMMA & SON LOVE – SABEN (being out-modelled by my own son proved to be a career highlight for me!).
It was 2005 when, believing we need to put love, attention, time and effort into our next generation, having co-founded my own agency in RED11, I was honoured to be hand-picked by REMIX MAGAZINE as one of 50 UNIQUE NEW ZEALANDERS.
REMIX: "What wisdom would you pass on to the next generation?"
AB: "Empathy first and foremost and a sense of understanding second, as these two life skills will ensure you are able to cope with everything life will throw at you. That and don't send a nurse to do the surgeon's work."
PONSONBY NEWS – PEOPLE AND THEIR PETS
The August '14 issue of PONSONBY NEWS touches on what #MONTYMODELDOG means to our family:
'He's been responsible for many people overcoming their fear of big dogs, children have ridden him like a pony and he's been one of the greatest gifts we've ever been fortunate enough to have encountered. Monty helps bond people together.'
CLOSE ENCOUNTER – NZ WEDDINGS Discovering the next big thing was in a day's work as the co-owner of RED11 Models. In NZ Weddings, I share some secrets on making the most of your time in front of the lens on your big day.
KELLY THOMPSON (TOP ILLUSTRATOR):

ABOUT: 'I was lucky enough to meet Amanda Betts from Red 11 Models who was willing to take a chance on me, she was also a pretty smart business woman and knew she could use my enthusiasm to her advantage! She booked me to shoot 6 girls in one day, it ended up being 22 over 2 days, we have been working together ever since, and a lot of my NZ exposure came from shooting her models.'
CAREER GIRL It's an older piece, but none the less, as an ex-model and model agent, CAREER GIRL (GIRLFRIEND MAGAZINE) touches on my climb to the top of the modeling industry and how you can fulfil your dreams if you believe followed by being brave enough to put yourself out there.
It's (yet another) full circle in this older story titled DIARY OF A CAREER CHANGE (that little boy is now a 6'3"-tall 16 year old!). In it I take you on a bit of a ride through the emotional roller coaster of a career change.